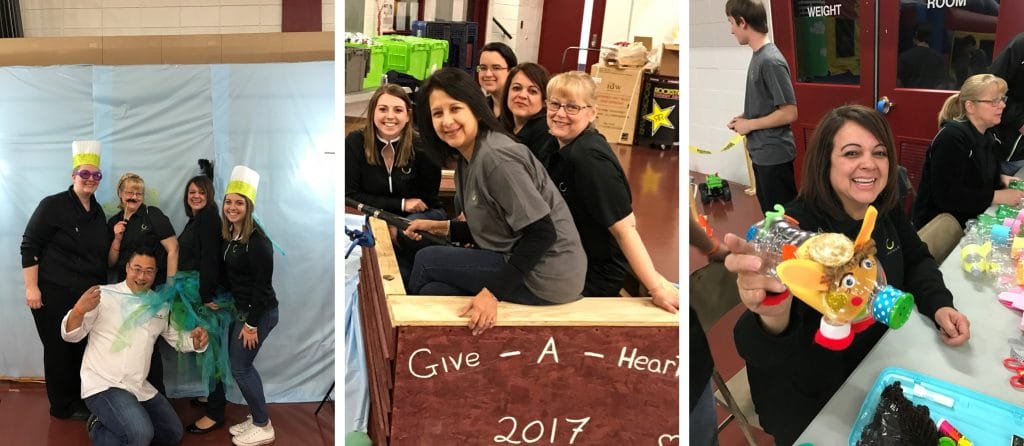 Last February, our Midwest team found and fell in love with Mooseheart International, and its mission to provide much-needed homes to kids and teens, from infancy all the way through high school. To support the cause, they helped host the first ever Give a Heart Day.
This year on February 25th, a tradition was born when Canteen volunteers and local vendors gathered for a second time at Mooseheart Lodge in Aurora, IL to celebrate another Give a Heart Day event! "It was great to provide a day to celebrate the kids and Mooseheart families. The smiles and laughter from the kids made the event." said Margaret Boyle, Field Marketing Specialist.
With over 200 kids in attendance, the day was filled with fun activities including a roller rink, photo booth, and ping pong tables, as well as stations set up for makeovers and haircuts. According to Margaret Boyle, the haircut station was by far the most popular station. "We were breaking down and they were still giving haircuts! It was unbelievable."
On top of all of the exciting activities, there was also a full spread of catering, all provided by our local Canteen team. Things like BBQ, Moose Munch trail mix and cupcakes were just a few things on the menu. Plus, each family was given a care basket filled with snacks to take home with them.
To learn more about Mooseheart International and their efforts, or to see how you can help make an impact, please visit their website.